What do you think when you hear the words mashed potatoes, gravy, sweet potatoes (or yams- that's always up for debate), cranberries, stuffing, and turkey? More than likely you think Thanksgiving. Maybe you think family. Maybe you are envisioning the inevitable nap that happens during the post-meal football game. Or maybe, your mind has gone straight to the dreaded word – calories.
This year, eat all of that yummy food (and even reach for the second piece of pie) without feeling all of the guilt. Start your Thanksgiving morning off right with some fresh air and exercise at a local run/walk. Check out the Dayton Parent Guide to Turkey Trots Around Dayton to see where you can get up, get moving and help raise money for a worthy cause. This experience will leave you eager to gobble up your Thanksgiving feast and feeling grateful you participated.
Where: Miamisburg, Intersection of Main Street and Linden Ave
Start Time/ Distance: 8:30 am- 5 mile run & 1 mile fun walk/ run
Cause: Bring your lightly used clothing to the Expo and drop them off in the Donation Carts for Goodwill Stores
Got a creative idea for a Thanksgiving-themed costume? Think you can actually run in that costume? Enter our costume contest, either individually or as a group. Prizes will be awarded to the 5 best. Judging begins at 8:00 am on race day in front of the Kettering Sports Medicine Van which will be located near the finish line.Those in the one mile event will line up in the yellow corral which will be on Miami Ave behind the green corral.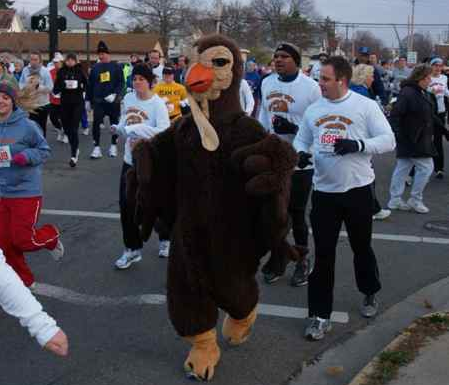 ---
Where: 1341 Meadowbridge Drive, Beavercreek
Start Time/ Distance: 8:30 am- 5k
Cause: Proceeds from this event will benefit the Beavercreek Wrestling Programs
Race Day registration begins at 7:30AM (Parking available at Daysprings Ministries Building behind Taco Bell) $25 includes T-shirt and refreshments if registered by Wednesday, November 15, 2017. Registration is $30 after November 16th and on race day (Shirt cannot be guaranteed).
---
Where: Welcome Stadium, 1601 S. Edwin C Moses Blvd, Dayton
Start Time/ Distance: 8:30 am- Kids Dash. 8:45 am- Half Marathon & 5k
Cause: Girls on the Run of Dayton, We inspire girls to be joyful, healthy and confident using a fun, experience-based curriculum which creatively integrates running.
Join the tradition at the Dayton Turkey Trot Half Marathon & 5k on Nov. 26. Each participant gets a free fleece hoodie with registration and delicious cinnamon rolls are waiting for you at the finish line.
---
Where: Kyle Park, Tipp CIty, OH
Start Time/ Distance: 8:30 am- 5k/ 10k
Cause:  New Path ministry at Ginghamsburg Church
We at Speedy Feet are glad to have this race back on our schedule for 2017. With both a 5k and 10k there is something for everyone. Come burn some calories so you don't feel guilty eating the rest of your Thanksgiving Day. Award to Overall and Age Group winners. Entries received by November 12 are guaranteed a shirt. This race serves as a fundraiser Ginghamsburg Church's New Path Ministry which provides food for families in need.
---
Where: Mercy Health Imaging Center, Springfield, IH
Start Time/ Distance: 8:00 am- 5K
Cause: Clark County Special Olympics
2017 marks the 10th Annual for the Fountain 5k. It has grown from about 40 runners to over 1000. It's a great way to start your Thanksgiving and for a great cause.