Forget your cares and step back in time to this 30-acre re-created 16th Century English village and enjoy over 400 years of fun in a single day! 
The Ohio Renaissance Festival has over 150 costumed characters welcome you to the village! Rub elbows with Royalty as you cheer your favorite knight to victory in the thrilling Full-armored Tournament Joust. Welcoming you to a festive day in the village are dueling swordsmen, rowdy pirates, nobles, peasants, and daring jugglers.
Details: 
Dates: September 1 – October 28 – 9 Weekends – Saturdays, Sundays & Labor Day
Hours: 10:30am – 6:00pm
Tickets: Adults $23; Children $9.50 (ages 5-12); Children under 5 FREE.
Group Sales: The more the merrier! Group discounts are available for groups of 15 or more. Call (513) 897-7000 ext. 244 for details or visit www.renfestival.com.
Where: Renaissance Park – Harveysburg, Ohio – Conveniently located near Cincinnati, Dayton, and Columbus just minutes off I-71, exit 45 or I-75, exit 38 on State Route 73 in Warren County.
Theme: This 35-acre permanent village has been authentically and historically re-created in the flavor of 16th Century England.
Entertainment: Visitors will see a full day of entertainment including full-armored Jousting the way it was done over 400 years ago by real Knights in shining armor. Queen Elizabeth I presides over the festivities as dozens of Renaissance musicians, dancers, comedians, jugglers, sword-fighters, storytellers and hundreds of costumed performers entertain patrons of all ages on 14 stages in nearly 100 shows daily.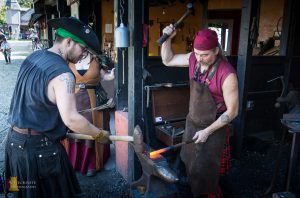 Arts & Crafts: More than 150 world-class artisans display wares in this unique shoppers' paradise. Master artisans demonstrate timeless arts of glassblowing, jewelry making, blacksmithing, stone carving, leather crafting, weaving and more.
The air is filled with the scents and smells of the foods of the Renaissance period. Feast like Royalty on juicy, giant roasted turkey legs, fresh baked bread bowls overflowing with soups and stews, fish 'n chips, steak-on-a-stake, succulent roasted corn on the cob, Bourbon chicken, and a wide variety of fine ales and wines. There's something for everyone's taste buds!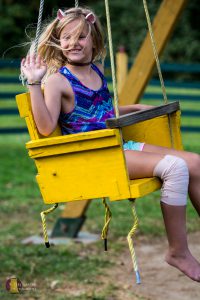 Visitors of all ages will be amused by the games of skill and human-powered rides. Try your hand at archery and see if you're a modern-day Robin Hood, or climb the castle tower and rescue the lovely damsel in distress.
Must See! The Swordsmen, two itinerant gentlemen with sharp swords, quick reflexes and even quicker wits for an entertaining balance of comedy and the manly art of swordfighting. The Knights of Valour, real knights in shining armor, do battle in three Jousting Tournaments each Festival day – It's the original heavy metal! Theatre In The Ground (aka The Mudde Show) presents literary classics with a comedic twist performed in Ohio's only Muditorium, where comedy meets Earth. The Kamikaze Fireflies feature dangerous feats and comedic stunts.
Test your skills in the gaming area or climb the 25' Castle Tower, then visit the Tower of London Dungeon of Doom. Eat, drink, shop, enjoy the shows, ride human-powered rides, and visit with Royalty at the 2018 Ohio Renaissance Festival.
Get more information about the Ohio Renaissance Festival on their website: https://www.renfestival.com/