Trains are a quintessential part of the holiday experience. Kids love trains; and for parents, there's just so much nostalgia and holiday memories attached to trains. 
While Dayton has lots of amazing holiday trains, we added in a few awesome places to see in Greater Cincinnati. Because what's better than bundling up, cranking the Christmas tunes and taking a little family road trip?
Location: Cincinnati Museum Center
Dates: Begins November 10
This holiday season, wonder, joy and merriment will cover 12,000 square feet of CMC's special exhibition gallery in Holiday Junction featuring Brickopolis. Fan favorites like the Thomas the Tank Engine and his friends and the Super-O interactive layout trains will return this year. In addition to a variety of train layouts of different sizes and themes, the riding train will be back, letting riders chug along through a winter wonderland. See website for ticket details
Location: LM&M Railroad
Dates: November: 25 & 26. December: 3, 8, 9, 10, 15, 16, 17, 21, 22, 23, & 24*
The LM&M Railroad will have our station area decorated with lights for the Christmas season. Hot chocolate and cookies will be available on the platform while you wait for your train and are included with your ticket. Cookies will be provided by the Sweet Alexis Bakery. Each passenger will receive one cookie that is peanut free, egg free, tree nut free, and dairy free. Every passenger will receive a FREE souvenir hot chocolate mug. Each child will receive a special "North Pole Express" souvenir train tickets. Please see website for times and modified days.
Location: Behringer-Crawford Museum
Dates: November 11- January 14, 2018.  10:00 am- 5:00 pm
Behringer-Crawford Museum's beloved trains roll again with 250 feet of track and more than 30 guest-activated displays plus "Polar Express" readings, Santa visits, a Charles Dickens display, special holiday exhibits and more. Included with museum admission.
Location: Entertainment Junction
Dates: November 11- December 31
Take a magical journey through a Winter Wonderland to the North Pole where you can see the Reindeer & Elf Workshop. Then, visit Mrs. Claus in her kitchen and, of course, visit Santa in his study.* Take your family to see our Main Street Holiday Train displays which offer some beautiful winter train displays that are FREE to the public. Create lasting memories with your family as you experience the world's largest train display, let the little ones play in our kid's play area, or experience the A-Maze-N FunHouse where young and old alike will love our interactive attractions.*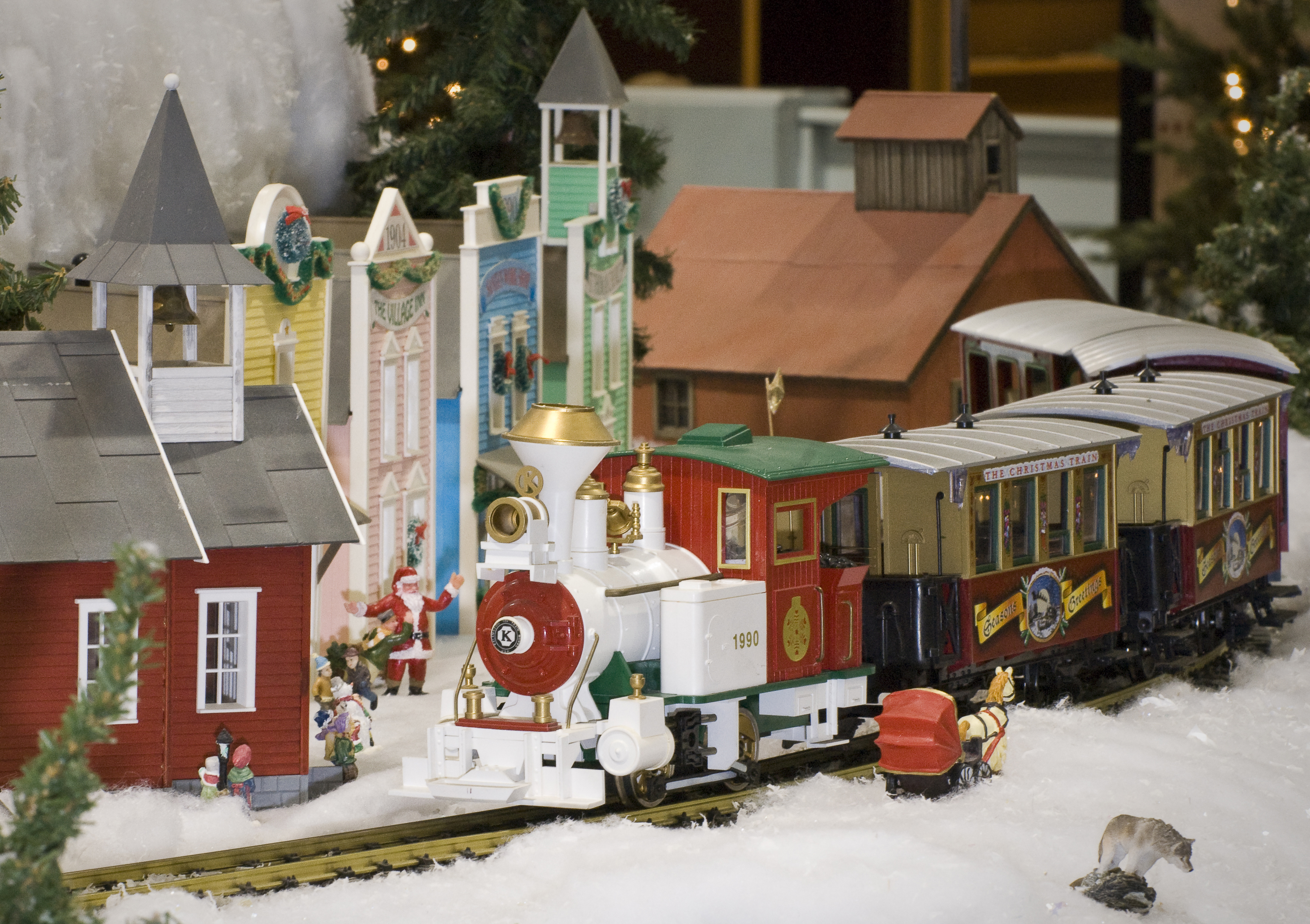 Location: Whitewater Valley Railroad Grand Central Station
Dates: November 17, 18, 19, 24, 25 and 26; December 1, 2, 3, 8, 9, 10, 15, 16, and 17, 2017.
The Polar Express comes to life when the train departs Connersville's Grand Central Station for a journey through the quiet countryside for a special stop at the "North Pole" to allow Santa Claus to board the POLAR EXPRESS. Guests on board will enjoy hot chocolate and a cookie while listening and reading along with the magical story.Prices for 2017 are $35 per persons ages 2 and up.
Location: The Christmas Ranch, 3205 S. Waynesville Road, Morrow OH
Dates: November 17th and runs through December 23rd, see website for times
A night time ride around the village while viewing the dazzling lights and the aroma of Christmas in the air. rain & Wagon Rides are available most evenings including Friday, Saturday, Sunday 5:00PM – 9:00PM. The price for Train and Wagon Rides is $4.00 (Children under 3 years old are free)
Location: Kohn's Conservatory
Dates: November 18- January 7, Open daily 10:00 am- 5:00 pm. See website for special times
The conservatory showroom will be filled with ruby red poinsettias, fanciful evergreens, cyclamen, amaryllis, and more of your favorite holiday plants. Delightful botanical architecture surrounded by many miles of train track will be created in natural components by the Applied Imagination team. The train display and historical buildings created by Applied Imagination will immerse our visitors in the sights and sounds of chugging trains and splashing water, with trains overhead and trolleys at your feet. Bring the family to Krohn Conservatory and continue to make great holiday memories! Ger $1.00 Coupon here!
Location: Kettering Tower lobby, corner of Second & Main streets.
Dates: November 24-January 2; Mon.-Fri. 8:30 a.m.-5:30 p.m.
Visitors of all ages can view this beloved, one-of-a-kind model train display that was given to the community by Mrs. Virginia Kettering. The display can also be viewed through the building windows at Second and Main anytime.